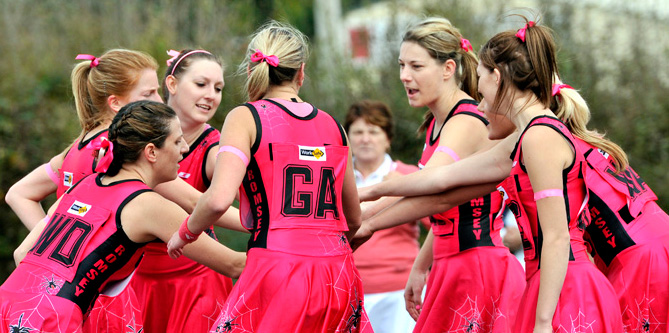 Register for
Pink Sports Day 2016
Register for Pink Sports Day 2016!
Sporting clubs, leagues and associations across the nation will once again 'pink up' for Breast Cancer Network Australia(BCNA)'s annual Pink Sports Day. Now running 365 days of the year, clubs can hold their event on any days that suit their fixtures and availability.
We invite your sporting group to join in the fun by turning pink over a weekend of your choice as a show of support for people in your community affected by breast cancer. At the same time, you will be helping to raise awareness and vital funds for BCNA to help us continue our important work.
It's an easy and fun way to unite your sporting group for a special cause and it's guaranteed to be exciting and very rewarding!
It's free for clubs to participate and BCNA will provide you with a great 'Pink Sports Day Event Pack' with fundraising ideas, posters, Pink Lady tattoos, Pink Lady cut-outs, balloons, media release templates, donation tins and lots more!
Money raised through Pink Sports Day goes directly to BCNA to support our work in ensuring Australians affected by breast cancer are provided with the very best information, services and support.
Please note you must register your sporting groups Pink Sports Day on the BCNA website to receive your free event pack. Click here to register for Pink Sports Day!
If have any questions about Pink Sports Day, we would love to hear from you. Please do not hesitate to contact Kris Paproth, Community Fundraising Events Coordinator on 1800 500 258 or send an email to pinksportsday@bcna.org.au.
Raised So Far
$278,478.19
Help us raise vital funds